Domino's Pizza UK disappointed the market as its overseas division didn't perform well due to increasing labor costs.
The situation should improve in the current semester.
The dividend is 100% safe and will very likely continue to increase.
After taking profits around the 350 pence level, I am getting increasingly interested in getting back in.
It has been approximately a year since my first article on Domino's Pizza Group PLC (OTC:DPUKF) which holds the master franchise for Domino's stores in the UK, Ireland and some countries on the European mainland. On top of that, the company also has a controlling stake in the owners of the master franchise agreements in Iceland, Norway and Sweden. So although the company's name refers to Domino's UK, the total reach is much wider than just the two islands.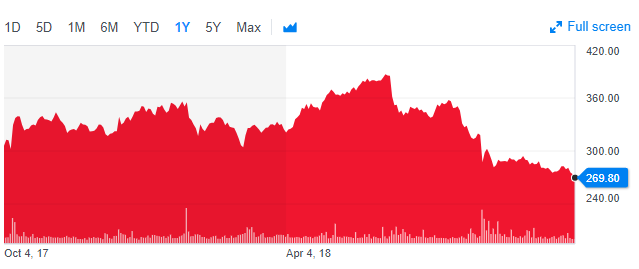 Source: Yahoo Finance
Whenever I'm talking about 'Domino's' in this article, I am referring to this specific company and not the worldwide Domino's Pizza (DPZ) listed on the NYSE. Domino's UK obviously also has a listing on the London Stock Exchange, which is actually more liquid than the OTC listing (which makes a lot of sense). The ticker symbol in the UK is DOM, and the average daily volume in London is approximately 2.9 million shares per day (but this was due to a few very high volume days over the summer). The current market capitalization is 1.29B GBP.
Related: Fast Food Franchises in the UK – 10 Things Every Would-Be Franchisee Must Know
The share price weakness was caused by a shift in the H1 financial results
Domino's reported decent financial results, but the market appeared to be a bit spooked by the increasing labor expenses in Norway which had a negative impact on the company's financial performance as those increases could not be (fully) passed on to the customers. On top of that, the financial media also mentioned interest expenses increased compared to the first half of last year, but I don't think this 0.5M GBP interest expense increase had a meaningful impact on the market's perception. The difficult transition in Norway where Domino's is converting Dolly Dimple places into Domino's Pizza stores appears to be the main reason for the market's panic reaction, which overlooked the CEO's attempt to reassure the market as he stated the performance would improve in the second half of the year.
Source: Seeking Alpha