No sooner has Whitbread Plc decided to spin off Costa Coffee than questions are being asked about the future of its other main business.
Setting a course for the Premier Inn budget hotel chain will be the company's main priority after Costa is jettisoned, and there's no shortage of ideas in the market about how that can be achieved. While shareholder Blue Whale Capital LLP says the business should adopt a franchise model similar to InterContinental Hotels Group Plc, Bernstein analysts favor expanding Premier Inn's business in Germany. Others say the division might be bought.
"I'm not sure we'll be talking about Costa much longer," Ed Meier, a London-based fund manager at Whitbread shareholder Old Mutual Global Investors, said in an interview. "It's widely expected that it will get bid for before a demerger process is complete, at which point Premier Inn gets bid for as well."
Related: Whitbread Secures A UK Hotel Deal Each Fortnight In 2017
The increasing prospect of corporate change is reflected in Whitbread's share price, which has risen about 6 percent since activist Elliott Advisors appeared on the shareholder register last month. The U.K. company has acknowledged that the likelihood of an approach for either Costa or Premier Inn has probably increased given the announcement that it will seek to demerge the coffee-shop chain within two years, Barclays analyst Vicki Stern wrote in a note last week. Whitbread declined to comment.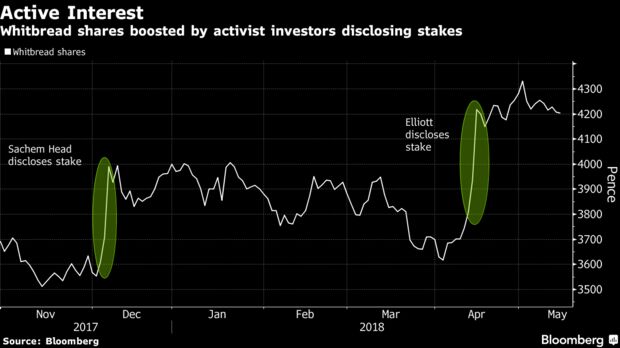 For now, analysts and shareholders are debating what strategy would best suit Premier Inn as a standalone business. The chain operates more than 780 hotels in the U.K. and has been expanding into Germany. It aims to lower the number of properties it owns to about 60 percent from 64 percent. Larger peer InterContinental manages or franchises hotels rather than owning them.
According to Blue Whale Chief Investment Officer Stephen Yiu, a franchise structure would offer higher returns on capital as well as less volatile revenue and cash flow, allowing Premier Inn to expand more quickly in the U.K. and overseas. Whitbread currently makes up 3 percent of the 45 million-pound ($61 million) LF Blue Whale Growth Fund, though the holdings account for a stake of less than 1 percent.
Related: Travel and Leisure Franchises UK – Should You Buy A UK Travel Agency Franchise?
"We want Whitbread to generate significant cash from the sale of their properties to external parties and focus on fee-generating activities, particularly franchising," Yiu said in an interview, adding that the company could use the proceeds to pay special dividends or buy back shares.
Trailing InterContinental
Shares in Whitbread have returned 468 percent since the end of 2008, including dividends, less than a 1,000 percent return for InterContinental Hotels but beating the FTSE All-Share Index's 169 percent. Whitbread could achieve a comparable outperformance to InterContinental by pursuing a similar franchise strategy for Premier Inn, according to Yiu.
Not everyone agrees. Bernstein analyst Richard Clarke sees Premier Inn's much smaller hotel network, as well as its lack of a recognized franchise brand and loyalty program, as hurdles to the chain charging a royalty rate close to that of InterContinental Hotels and Accor SA. He has an underperform rating on Whitbread.
The company could sell some of its hotel properties in the U.K. to invest in the German market after the Costa spinoff is complete, according to Clarke. Negative like-for-like sales performances at both Premier Inn and Costa show that they're beginning to saturate the U.K. market, he said.
"Premier Inn needs a growth outlet, and at the moment the most likely option is Germany," Clarke said by phone. "We don't know yet whether the Premier Inn brand resonates there, but if they could increase their presence through buying more hotel properties or a rival, it would help them grow faster."
Source: Bloomberg